---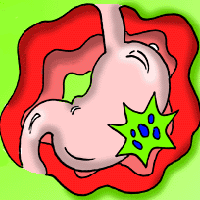 Bacteria blamed for ulcers, cancer
Article synopsis:
A new study of the stomach microbe, Helicobacter pylori, has shown that ulcers and possibly a type of stomach cancer can be treated with anti-microbial drugs.

Article citation:
"Stomach Microbe Offers Clues To Cancer as Well as Ulcers," The New York Times, Feb. 22, 1994, p. B6.

---
Information at other sites: Following these links will take you out of the DLC-ME web pages. Please let us know if you are unable to access any of these outside resources.

This topic continues to appear in appear in the news. Here is a recent related story:
Bacteria may cause ulcer ills from Scripps-McClatchy Western by way of Nando.net, Dec. 2, 1995.

Other background information on this topic:Jack Brown, a microbiologist at the University of Kansas, provides a detailed explanation of this topic in his page entitled Bacteria Cause Ulcers? You're Kidding!Information on Stomach and Duodenal Ulcers from the National Digestive Diseases Information Clearinghouse includes a brief history of Helicobacter pylori research.
---
---
Questions or comments on this topic?
Please note! Use of this World-Wide Web site is being monitored for educational research purposes. Comments submitted by visitors such as yourself may be included in published research reports. Reports quoting such comments will not include the actual names of their authors. If you are not comfortable with this, you may wish to forgo E-mailing your comments to us.