---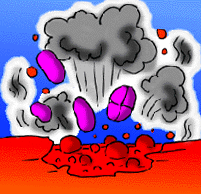 Primordial microbes still exist
Article synopsis:
"The closest thing we have to the primordial bug lives today in Yellowstone National Park -- but its relatives have been popping up everywhere."

Article citation:
"Triumph of the Archaea," Discover, February 1995, p. 30.

---
Information at other sites: Following these links will take you out of the DLC-ME web pages. Please let us know if you are unable to access any of these outside resources.

SCIENCE ON-LINE has a synopsis of a related article from SCIENCE Magazine entitled Yellowstone Managers Stake a Claim on Hot-Springs Microbes.

During the last week of October, 1995 Earth & Sky presented three programs on the topic of Archaea. You can listen to these two minute audio programs if you have the RealAudio Player, or you can view the transcripts.
Fiery Origins: read or listen to a discussion of the origin of life on Earth.Archaea: read or listen to an explanation of the discovery of Archaea.Living Fossils: read or listen to information about how discoveries at Yellowstone are providing insights into the evolution of life.

Earth & Sky is a daily science radio series made possible by the National Science Foundation. RealAudio provides audio-on-demand for the Internet.
---
---
Questions or comments on this topic?
Please note! Use of this World-Wide Web site is being monitored for educational research purposes. Comments submitted by visitors such as yourself may be included in published research reports. Reports quoting such comments will not include the actual names of their authors. If you are not comfortable with this, you may wish to forgo E-mailing your comments to us.