Research

Jan Kesel
---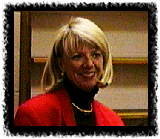 Jan Kesel teaches Advanced Placement English and two to four sections of Developing Independent Research Through Telecommunications (DIRTT) at Waverly High School (see Internet Resources below) which is located in a suburb on the west side of Lansing, Michigan. Waverly High School has approximately 1100 students in grades 9-12. The school represents a working class to upper middle class population with approximately 13% minorities.
Jan has been a teacher of English and computers for twenty-seven years in various high schools and community colleges. She has taught in the Lansing schools, in Wisconsin, in Minnesota, in northern Michigan, and at Waverly for the past 16 years. Currently, she teaches Advanced Placement English and DIRTT as well as being advisor to the student senate, the senior class, and poetry book advisor. Even after 27 years, she loves teaching and working with students in and out of the classroom. She believes that she has been fortunate to be allowed to create new classes that challenge her and her students.


Project Description: Developing Independent Research Through Telecommunications (DIRTT) project
Developing Independent Research Through Telecommunications (DIRTT) is a semester-long high school course that takes students beyond the limits of the classroom via the Internet. The students use the computer as more than a typewriter: It becomes the tool that they use for searching independently for answers. The students in the class learn to use the computer, modem, and various software packages. The main function of the class is for students to learn to use e-mail, the World Wide Web, Netscape, WebCrawler, and other Internet search tools available through the SCNC (Southeast Central Network Consortium) connection. During the first part of the course, the students complete various proficiencies indicating that they are able to conduct searches and select materials that will be of value in their research. The second element of the course is when students are involved in one of three projects:

an independent research project of their choice using the Internet
involvement with Earth Odyssey
involvement with the International Poetry Guild (IPG).
The last two programs are part of the University of Michigan's (UM) Interactive Communications and Simulations (ICS) project (see Internet Resources below) that brings together schools throughout the world by e-mail and the Internet either to react to a trip taken by UM professors in remote places of the world or to exchange poetry with students and produce a poetry journal to be exchanged with all schools.
Movie About the DIRTT Project
QuickTime Movie (1.1M) file)

Audio About the DIRTT Project
DIRTT.au (289K)
The International Poetry Guild
Each semester students select a theme and a title for their book, establish an editorial policy, organize a staff, and solicit poetry from all students throughout the school. On a daily basis the students receive communications and exchange poetry by the computer with about 12 other schools in their guild. Jan said, "During our involvement these schools have included ones in Michigan, many other states, Canada, Great Britain, Belgium, Switzerland, Germany, Italy, Turkey, Japan, Korea, and the Philippines. Some poems we reserve for our book and others we submit for use in other schools' books. We also select poems from the other schools that fit our theme. That way our book becomes an international collection. The UM mentors give comment and ideas for revising and editing; thus, the students get much needed critiquing from sources other than the teacher."
After eight weeks of exchanging poems and discussions with the schools, the students layout the book using PageMaker and include biographies of the poets and students' photography or artwork. The books are then exchanged with participating schools and sent to UM for judging on merit. At the end of the term, students have learned to use the Internet for research and to communicate with other students to exchange poetry and ideas. As a result, they are much better prepared to meet the technological challenges of the 21st century.
DIRTT is unique in that it gives purpose and structure to the use of computers and the Internet, and it allows students to explore areas of interest and to share their knowledge. It uses the latest technology and prepares students for the world of work or college; they know the responsibility and ethics involved with use of technology. They learn that to compete globally, they must learn to be problem solvers and to work as a team to produce a competitive product.
Whether in other classrooms, at poetry readings, or computer conferences, Jan's students present their knowledge and tell their success stories. They own the class and decide, within reason, which direction their learning will take. The other IPG classes they are on-line with are primarily English classes that are doing a poetry unit. Jan's class focuses on the use of the Internet and the computer, and as a by-product, they produce a poetry book.
Jan said, "Another unique feature of the construction of the class is that I can give daily personal contact with the students even if I am not there! I leave them e-mail messages and on several sick days have gone on-line from home to chat live with the students. While they enjoy the communication, they say it takes the fun out of having a sub when they know I'm just a modem line away."
The students' final proficiency at the end of the semester is to use their knowledge to teach another class how to use the Internet, e-mail, or the Web for communicating and finding information. As a result the knowledge is being spread throughout the school to staff and students. One student chose to teach the administration how to use e-mail and do topic searches while others demonstrated to foreign language classes how to find material and pen pals in the language studied. Some students taught science classes how to track the daily earthquakes, taught government classes how to e-mail the president, communicate with their congresspeople, and read the Congressional records, taught a senior class how to apply for admissions to colleges via the Internet, and taught English classes how to search for books or full text articles at libraries around the world. It has made the use of the Internet less daunting and given it practical application while expanding the students' capabilities of finding updated, instantaneous information.
Audio About the Poetry Guild
Poetry Guild.au (238K)

Audio on the benfits of the Poetry Guild
Benefit.au (206K)
Jan believes that students must be active and responsible participants in their learning. She encourages her students to explore their interests and to create a love of life-long learning. She uses technology as a tool to foster a students' love of learning and often finds that she learns more from her students as they teach her about their interests.
Jan feels that there are many advantages to working with Internet technology. The Internet allows access to current information and world-wide communication in an instant. She has also observed that her students work harder and longer to find an answer when using the Internet. It seems to motivate and interest all types of students.
Jan recalls a specific example: "The students' interest and dedication to this class is demonstrated by their willingness to work at night, lunch periods, and even on weekends to complete projects. Once on a Sunday we accidentally set off the silent alarms in the computer center. When the sheriff's deputy arrived and he saw the caliber of work the students produced on the computer, he arranged for a collaboration between the students and his department to totally revamp the department's various forms so they were user friendly. The students in turn received a merit citation and an opportunity to go on patrol with one of the deputies."


First Experiences with Technology & Internet
Jan was a high school junior when MSU offered a FORTRAN computer programming class for high school students. (An IBM mainframe with only keypunching as a means of imputing information.) That was in 1965! "Yes, thirty years ago." Jan said, "I thought it was great and even did my senior research paper on computers. It's humorous to read now what I predicted in 1966 for the future of computers."
Jan has been using a computer in her classroom for 15 years. According to Jan, she "...started with 4 Commodores with cassettes for input, trying to teach 8th graders how to program in Basic! We learned to share and to be frustrated".
Waverly High School uses Macintosh computers, and they have a Student/Staff Service Center (S/SSC) which has approximately 140 computers and a library with 35 more all for student use. The students also have two scanners and two Light Pros for computer projection for demonstration purposes. When Jan started DIRTT, she was able to get six phone lines and six modems in the S/SSC. They currently use the Southeast Central Network Consortium (SCNC) for access and have direct access to the Internet for 68 computers. Netscape is used as their browser. In addition, students have access to SIRS, ProQuest, Ingenious, and other magazine and newspaper research tools.
Jan is fortunate because Waverly has technical staff on duty to keep the equipment up and running. However, she did say that in her class "the main problem is that sometimes Netscape freezes up during peak hours of usage. The students get frustrated when ports are not available. The other problem is that there is so much 'stuff' on the Internet that students must learn to distinguish valuable information and evaluate the source. It is no longer a problem of only one book in the library on the reproduction of the elephant but over 6000 sources! Now students must learn to be critical consumers of information."
Housing and Urban Development: The students have taken the knowledge they learned from the UM mentors and gone on-line with several area Housing and Urban Development (HUD) computer centers to mentor the younger children in the housing development. These students also produced a poetry book that they dedicated and presented to Jan's students at their first face-to-face meeting.
The students' involvement in UM's IPG has also brought great personal success. The students have won individual awards for their poetry writing (over 23 this past term) as well as top awards for book content, lay-out, and presentation. They are proud to have published six books of poetry. Their personal daily contact and sharing of poems with teens in various schools throughout the U.S. and the world has broadened their understanding of teens and their concerns. Many friendships have developed as result of this project; one student from Italy came to visit for two weeks after spending a semester communicating via the computer and modem. Four of Jan's students have used their interest in poetry and the computer to go on to become editors of their colleges' (UM, MSU, & Hope) literary magazines.
Jan says, "My students have also done poetry readings at various bookstores and presentations at state computer and English conferences. Another result is when my students graduate, they never really escape high school altogether. They e-mail me and my new students daily from their colleges keeping us informed of life after high school. They even e-mail me their class papers to critique before turning them into their professors! They have repeatedly said that they are much better prepared for college as a result of DIRTT and their ability to use the Internet and a computer as a research tool."

---
LETSNet is © Michigan State University College of Education and Ameritech