Publishing

John Schick
---
This Teacher Case is a spotlight on the teachers' personal stories. If you would like to learn more about John's curriculum unit (the Virtual Ellis Island Museum), then be sure to look under the Units section in the table of contents on the left.

---

John Schick teaches fifth grade at Alderwood Elementary School [http://wwwald.bham.wednet.edu/] in Bellingham, Washington. John has been teaching for four years-- the past two years at Alderwood and two years in Steilacoom, Washington. He enrolled at the University of Washington in 1989 to receive a teaching degree after holding a number of other jobs, most recently being a library technician at the University of Washington.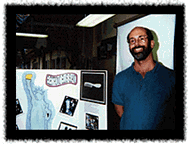 Alderwood is a Title One school and has about 300 students, many of whom receive free or reduced lunches. Many of the school's students come from a rich variety of ethnic backgrounds: Vietnamese, Cambodian, Mexican, Ukrainian, and members of the Native American Lummi tribe. Bellingham is a community about 90 miles north of Seattle and is home to about 60,000 people. Bellingham has traditionally been home to the timber and fishing industries. Now however, Bellingham is experiencing a boom and is growing dramatically. While the traditional industries of timber and logging have suffered, many people are relocating to Bellingham because of the area's beauty and recreational opportunities.


Project Description: Virutal Ellis Island Musuem
John's classes from this year and last year created a virtual Ellis Island museum on the Web. He chose the Ellis Island concept because the district has a three year rotating cycle of themes-- interdependence, changes, and diversity. As John says, "our theme this year is diversity. Ellis Island has showed us cultural and human diversity." Students have been conducting research on their families' histories and immigration. After students compiled their research, they typed up their reports using Microsoft Works and John converted the documents into HTML. During the 1994/95 school year, the producers of The Video Journal heard about the class' work and came to videotape their work. The video team was in the classroom for two hours and taped students doing research, showing their projects, and showing how the students had created messages from around the world welcoming parents to the open house. After being launched in during the 1994/1995 school year, the classroom's Ellis Island museum is still going strong. John recently put a counter on the site and found that it received over 600 hits in five weeks!
In addition to working towards computer literacy, John believes that working with the Internet allows students to make real-world connections with their learning. He believes that the students' work on the Ellis Island project empowers them by allowing them to tell their stories. The project helps students tie their family histories to historical events. It also has allowed the community to share in the work of the school by visiting the Virtual Ellis Island museum. John also believes that using the Web, especially for publishing, helps students have high standards: "It really shows students the necessity of reading and writing well."


Teaching Philosophy
John feels strongly that using the Web in classroom teaching is invaluable, "once I saw the excitement and potential there's no way I would go back to the way that I was before." John has shifted away from using text books to having students use the Web as a resource for information. He also feels that his involvement with the Internet has helped change his perspectives on students. He now strives to work with each student as an individual; this approach is facilitated by having students use the Internet. John knows, and it is apparent from visiting the classroom, that the students are immensely proud of the work that they have done.
John believes that one of the most important things a teacher must do is maintain high expectations for students. John's class this year has been really challenging to work with. There were times that he thought using the Internet would just never be able to happen. However, John persevered and with the help of his students' parents, held his class to high standards. The work has paid off and now the class has developed to the point that they work well as a group and can handle working independently with technology.


Internet Philosophy
John describes how he and his students use the Internet: "We don't surf. Save that for the people on the beach. We don't even use the word 'surf' -- it has too many negative connotations. Students do research. I show them how to search on the Web. Before any of our students are allowed on the Internet, they and their parents must sign a release form (it's available on the Bellingham Schools Home page-- accessible from Ellis Island) which puts the responsibility for proper behavior on the student. If they misbehave and get caught, there will be consequences. Having the parents sign off first really helps. I tell the students that if they come to an inappropriate place they should turn the screen off and come and find an adult. If they do that there will be no problems. So far, so good. The kids are so into this that they sure don't want to lose it." Thus, John's approach to teaching children about the Internet is to model using it and then let his students run with their ideas. This lets them explore the wide range of information available on the Web and integrate what they find into their classroom work.
John strongly believes that this process of exploration gives his students access to a new tools for learning. The unique aspect of the Web is that it provides so many different ways to learn -- students can access traditional text-based resources or find non-traditional graphical resources. John's class recently watched the space shuttle dock with the Russian space station MIR -- something that conventional classroom resources would never allow.
Using the Internet is also a learning experience teachers. It challenges teachers to reconceptualize how they formulate and carry out lesson plans. As John says, "once you get started working with the Internet takes on a life of its own and you can't guess where it's going to go and that's part of the beauty of it." John believes that teachers need to respond to the challenge of the Internet just as do students; teachers must be willing to abandon instructional certainty and embrace the dynamic aspect of working with the Web


First Experiences with Technology & Internet
John's first experiences with technology were when he was studying at The University of Washington in 1989 to get his teaching credential. He knew that word-processing would be important for him, so he taught himself to use word-processing software while in school. After receiving his credential, he began experimenting with educational software, mostly using it for basic, skill-and-drill approaches. In 1993 he went to a two-day training session on doing oral interviews and using the Internet. After the training, he could not get to sleep, he was both so excited and scared about the vast possibilities he saw opening to him and his students. He and his students embarked on the Making History Real project soon after, and also participated in a Jason Project [http://www.jason.org/] excursion to Belize.
"I've been teaching for 4 years. The first two years I didn't feel comfortable using technology so I didn't. Two years ago I was awarded a grant which involved my sixth grade class and me in a telecommunication project called Making History Real. It threw me into the fray and I haven't looked back since."


Classroom Equipment
Currently, Alderwood has a computer lab with 16 Macintosh computers and additional computers in each classroom. John's classroom has three Macintosh LC580s, a Macintosh Power PC, a Macintosh Classic, and a Zenith. All five of his classroom computers have ethernet Internet connections that link to the district's Web server. The majority of John's and the school's computers were financed through a $6 million bond initiative. One of John's classroom computers was an award from a local computer store for the excellent work done by one of John's earlier classrooms on the Making History Real project. The children have just recently been assigned individual e-mail accounts.
All this technology is quite different from the district where John first taught, where he had to scramble to line up any computers at all: "That first year we only had a computer in our class when we could beg, borrow, or steal one from the third graders."


Problems with Technology
John is the site advisor and helps teachers at Alderwood learn about and use technology. He also teaches technology classes at the district level. One of the largest problems that John has encountered with using the Internet is the sheer amount of time it takes. He must spend extra time before and after school preparing things and thinking about contingency plans in case his first set of plans don't work. There is always the possibility of problems, like servers or software being down that can derail set plans. John says, "unless you're willing to devote a lot of time, you won't make it-- the lead dog gets the view, but has to pull the others along." Integrating the Internet into classroom teaching also depends a lot on the view of teachers as professionals: "We expect kids to come to school every day, but as teachers we don't expect to come in and learn things, but to do the same as we have every day." Teachers will have to engage as active learners in order to successfully integrate Internet technology into their teaching.

One of John's main strategies in dealing with the amount of time it takes to integrate using the Web has been to work with other teachers and students in the building. He tries to empower them, teaching them how to run programs and do tasks, so that they can become peer tutors and teach others.



Other Internet Projects
Making History Real
Making History Real was funded by the Washington Office of the Superintendent of Public Instruction (OSPI). Kids did oral research in their communities and then posted some of the best works on a Gopher server. The first year, 1993, there were 30 classes participating across the state. In 1994/95, 30 more schools joined the project. Unfortunately, during the 1995/96 school year, the budget was cut. The program is still going but with limited support for each class. John's class last year really enjoyed the project: "It was a lot of fun. We did a project with senior citizens last year. We went to their retirement home and interviewed them and they came to the school for more interviews. We published two books and presented the seniors with one at a formal attire tea right before Christmas 1994. We were covered by the local paper and TV station and our class also won a free computer from a local electronics store. It was a very successful program."
Research Work
John has begun to allow students to do independent research using the Web. At first he assigned them a topic, and directed students to various sites that are good for kids. To guide their research, he asked them to find the most significant information on their topic. Two students researched the topic of weather and ended up focusing on the hurricanes that were happening at the time. While John strives to keep the experience as constructivist as possible, he is also aware of the potential problems that children might encounter in doing free exploration of the Internet. To guard against any problems, he makes sure that all students know to turn off the monitor if they should encounter something inappropriate and that they and their parents have understood and signed the district's consent form.
This spring, John is shifting their focus on diversity from Ellis -- Island focus to biodiversity. He is really excited about all the resources that are available on the Web about natural diversity. John says, "I'm planning on having the students work in groups and pick one of the many science projects and field trips available. The Global Classroom has some great things. I think it will be a big hit."

---
LETSNet is © Michigan State University College of Education and Ameritech