Individualizing

Gerry Del Monico
---
This Teacher Case is a spotlight on the teacher's personal story. If you would like to learn more about Gerry's curriculum unit (the Video Teleconference Survey), then be sure to look under the Units section in Research.

---
Gerry Del Monico is a resource room teacher at McManus Middle School (see Internet Resources below) in Linden,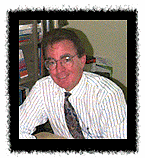 NJ, an urban, blue collar area near New York City. The entire school district has roughly 5000 students, many of whom are ESL students from South America, Haiti, Poland, and Czechoslovakia.
Gerry has been teaching at McManus for three years. He is a resource room teacher for 6th, 7th, and 8th grade students who are mildly perceptually impaired. He also helps interested students learn about multimedia authoring or online resources. In the past, he also taught special education for six years for Union County Special Education in New Jersey.


Project Description: Video Teleconference Survey
McManus is one of a relatively few schools that have video teleconferencing capabilities, which means that they can use their computers and Internet connections to have "real-time," face-to-face conversations with students at other schools. Gerry and his class use CU-SeeMe (see Internet Resources below), Cornell University's teleconferencing software, for a variety of projects. For the Video Teleconference Survey, Gerry's students conducted Internet research on the effects of media violence on teenagers and developed a survey that they then discussed over CU-SeeMe with interested students in other schools.


Teaching Philosophy
"We are five years away from the turn of the century, and we are still teaching kids the way we did five years before the turn of the LAST century. That's wrong."


First Experiences with Technology
Gerry first saw a computer, an Apple IIe, at a convention. He went up to it and touched the keys, and it "made funny noises." He didn't get discouraged, though. While Gerry was working in textbook publishing at Macmillan Publishing, the company decided to develop computer software. All Macmillan employees were given a Macintosh computer, on which Gerry became familiar with the ins and outs of Mac-based computing and multimedia software. He brought his knowledge to McManus, and then eventually learned about the Internet. He "knew the Internet was going on" around him, and he became curious about it. He asked a friend to show him some things the Internet could do, and as soon as he saw what was available, he thought, "This could be unbelievable." Now his students conduct research on the Internet and use multimedia applications to present their findings.
"I'm not that technical," says Gerry. He picked up technological ability because he had an interest in it. And now that he sees what the Internet can do, he thinks it's "necessary" for helping kids learn.


Classroom Equipment
Gerry's classroom contains 10 Mac LC 580 cmputers and two Mac LC 5200 computers. He and his students use Netscape, CU-SeeMe, Hyperstudio, Digital Chisel, Powerpoint, Encarta, America Online, Scholastic Network, Microsoft Office, The Writing Center, and PrintShop Deluxe.


More about Gerry's Work
Gerry says that "the Internet is the largest library in the worlds, and the books are thrown all over the floor, and there's no card catalog." This is the kind of thing teachers have to deal with when using the Internet. "It's just there." This is why Internet use can be daunting for some teachers. But Gerry can consult in-house expertise: his students. He considers himself to be a facilitator of student learning, and since a lot of his students are very advanced when it comes to technology, he just lets them go. Often, he will install a new software package and develop an understanding of what it does, only to find later that his students have thought of many new uses for it. Realizing that he can learn a lot from his students about technology, Gerry says, "I just follow their lead."


Other Internet Projects
Research Projects: Gerry says he finds that his students become "addicted to research" when they work on the Internet, which is something that didn't happen before. They have access to pictures, sound, and movies, all of which enhance their work and capture their interest. "It is becoming for some [students] the only way to report. The Internet is so much richer than what they can find in the library." Internet resources add "a completely new dimension" to research projects, and books become a secondary source. On the Internet, "there's something new every day." Gerry and his class plan to start presenting their research findings in multimedia formats. An example of a research project Gerry's class did is the Merck contest. Merck Pharmaceutical Company (see Internet Resources below) sponsored an essay contest for 7th graders in honor of Black History Month. Two of Gerry's students entered the contest. They began by using the Lycos search engine (see Internet Resources below) on Netscape to research information on Black scientists such as Ronald McNair, an astronaut. They wrote their essay with the information they found and included QuickTake pictures Gerry took of them while they were working. They ended up winning first place in the contest.
Video Teleconferencing: Gerry and his class learned a little bit about what life is like in California by conducting a video teleconference with students at the Town School for Boys (see Internet Resources below) in San Francisco. Using CU-SeeMe (see Internet Resources below), the two classes were able to exchange some surprising information: One day when Gerry's class was going to lunch, the Town School students were just arriving for the day! This was the first direct experience they had had with the time difference between them. In addition, girls do not attend the Town School, so the students there wanted to know more about the McManus girls! The students also sent e-mail to each other. To extend this experience, Gerry sent an e-mail inquiry to schools connected to CU-SeeMe, and has received responses from schools in Fort Lauderdale, FL, and Boston, whose students might connect with him and his classes this year. Gerry's class also received a live CU-SeeMe feed from NASA during a space shuttle mission last fall, so they could watch and hear what the astronauts were doing. During such live feeds, there is the opportunity for Gerry and his students to have face-to-face discussions with students at other schools that have CU-SeeMe so they can talk about what they are seeing. "All you need is a Mac, a camera, and free software from Cornell," Gerry says.
Sister Cities Project: Scholastic Network, a service offered by America Online (see Internet Resources below), pairs classes from different communities around the country, with the purpose of promoting information and idea sharing. Paired classes then exchange clues with each other to determine each other's secret location. New activities took place each month to help paired schools learn more about each other. For instance, paired classes might learn about the local politics, weather patterns, or community activities in their partner school's area. Schools posted their findings on a special Sister Cities message board to help all participants learn about interesting communities around the country. This project is an example of how Gerry thinks the Internet can help break down the walls of the classroom and encourage students to reach out to people and things in the world around them.
Cyberfest '95: In September, 1995, McManus participated in a live, interactive videoconference as part of Cyberfest '95, an event sponsored by Global SchoolNet (see Internet Resources below). A six-piece flute ensemble from McManus performed live over CU-SeeMe, as part of the effort to share music, art, and culture over the Internet. "The kids got really excited; they got dressed up and knew they were going to be on live television, " Gerry said. Schools and businesses in California, South Carolina, and in countries such as Japan and New Zealand participated in the project.
E-mail Letters to Santa: Gerry and his class also pretended to be Santa Claus, answering letters to Santa from younger kids. Gerry said that they researched Christmas and children's literature to have a better understanding of how to sound authentic. According to Gerry, this is a good example of how "simple little tasks like e-mail can become more involved" and lead to enhanced learning.

---
LETSNet is © Michigan State University College of Education and Ameritech