Global Connections

Frank Miracola
---
This Teacher Case is a spotlight on the teachers' personal stories. If you would like to learn more about Frank's curriculum unit (the International Key Pals), then be sure to look under the Units section in the table of contents on the left.

---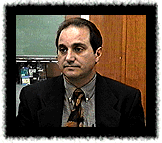 Frank Miracola is a fifth-grade teacher at Armada Elementary School in Armada, Michigan. Frank has been teaching for over 12 years, and has received recognition as a leader in the use of technology in the classroom. He recently won two prestigious awards - the 1994 Milkin Family Foundation National Educator Award and the Ameritech Michigan Teacher Excellence Award.


Project Description: International Key Pals
The International Key Pals project is an ongoing collaborative classroom project that Frank and his class participate in with classrooms around the world. Frank's class has been corresponding with students around the world in the form of key pal connections, which started out as curiosity about differences in culture and holiday customs, but have evolved into ongoing collaborative projects around math and science. Frank has also incorporated video and hyperstudio projects around activities with key pal partners.
The International Key Pals project began when Frank looked on the Internet for possible teaching partners for his 5th grade classroom. He posted a message to the KidSphere discussion list for teachers (see Internet Resources below) requesting key pal partners. About KidSphere, Frank said, "Don't let the name fool you. KidSphere is a fantastic place for teachers of any grade level to discuss issues and find partners. KidSphere is a listserv [discussion list] whose fundamental idea is to try to set up an international network for the use of children and their teachers."
Frank communicated with the following teachers around the world as part of his international key pals project:
Geoff Picker from Cambarata, Austrailia

Joane Oshior from Wahiawa, Hawaii

Austin Simms from Newfoundland, Candada

Dina Schlesinger from New York, NY

Doris Kelso from Mitchell, Nebraska
Frank's 5th grade class studied the Oregon Trail for their social studies unit, and Frank contacted his collaborative teaching partner in Nebraska and asked her to take a field trip for them. The Nebraska class went to Independence Rock and they filmed the whole thing, getting pictures of Independence rock and what it all meant in the context of the Oregon trail. In exchange, Frank's class took a field trip to the Henry Ford Museum and Greenfield Village in Michigan. Frank's class documented the history of the Industrial Revolution, and its effect on migration patterns, focusing on the car companies. The class took video cameras and sent VHS tapes to their collaborative classrooms. Frank said "We even added trailers on the end of the videos where the kids could introduce themselves to their e-mail partner, ask them a question, and the kids got to see and hear them on video. And that adds to the collaboration for the children. That particular project brought alive the Oregon Trail for my children. I mean, think about that, we did that before we started studying the Oregon Trail, and so they brought with them prior knowledge that helped them understand the history of movements west."
Frank's class has exchanged poetry with students in Australia with the theme of seasons. Frank also exchanged video with his collaborative teaching partners in Hawaii, Newfoundland, and Australia.
Frank said, "Working with people around the world has opened up my eyes to a lot of things. Not only around the world, but closer - within the U.S. What it's done for me is open my eyes to see the perception of education in the U.S. When you collaborate with someone outside your area you end up asking questions unrelated to the curriculum you're working on. They might say 'We were out a week because of a snow storm.' and I might write back 'Do you have to make up those days?' These conversations lead into other discussions and all of a sudden this dialogue takes place that wasn't there before. Again it goes back to that professional development. Now look how much more I know and understand on a national basis. You can also do this on a global basis. I've done that, especially with my Australian partners, and found out how they deal with it."
Frank described teaching as being a facilitator to help guide students while letting them explore and learn on their own.
Frank was asked how working with the Internet has changed his teaching practices. He said
"I started to look at what I was teaching and my method of teaching in a much different light. I started to question myself. I started to analyze more deeply my technique. I asked my partners to explain how they were presenting the project material to their children. I was able to listen to what they told me and offer suggestions and comments on how I presented the same material to my students. In doing this, I realized that as a teacher, I was growing. I was learning how to exchange viewpoints, compromise, and collectively come up with a strategy to effectively introduce our common project. I was professionally developing and the drive to do so came from within. It was a by-product of my collaborations."
Frank sees the Internet as a research tool for his students, where they can go on the Internet and use it as a resource for gathering information. Once students gather information from the Internet, they must integrate it into their classroom activities.

Hear an audio clip of Frank discussing collaborative work.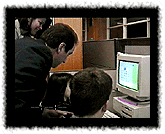 The Internet brings with it benefits and drawbacks, as Frank says, "Using the Internet is definitely on target with that because we open up the door for them, we didn't know where they were going to go, they didn't know what they were going to find, but they get to do the research. It's controlled risk. You have to know your limitations. You'd better have been there first. That's critical. So lots of planning is needed. "


First Experiences with Technology and Internet
Frank has been using a computer in his classroom for 12 years. Frank says, "I use the Internet to connect with other teachers. We share ideas and do collaborative projects together."
When asked how technology has helped him achieve his curricular goals, Frank said, "An example of that is in my teaching of math. I needed to get my children interested in constructing a story problem so they would better understand the process of solving story problems. I asked my partner in Newfoundland, Canada, if he would like to start an exchange of student-created story problems between our students. He liked the idea. We then collaborated on the parameters that each class would have to follow and we exchanged problems for about two months."
Frank feels that working with Internet technology affords his students opportunities that working with paper and pencil doesn't. "It makes the world come alive. In an exchange of poetry about seasons with our partners in Australia my students realized that our fall was their spring and everything was happening in reverse. That sure was an easy way to show that the southern and northern hemispheres are in direct seasonal contrast with each other."

Hear an audio clip of the risks of using the Internet in the classroom.


Classroom Equipment
Frank's classroom is currently equipped with a Macintosh computer, CD/ROM, modem, scanner, video and still video camera. Frank and his students regularly use e-mail and are now incorporating Netscape and the Web into their activities.
Frank has done numerous projects using technology and the Internet. When asked how teachers can use technology and the Internet in their own classrooms he said,

"Balancing the time is the key ingredient to using technology. You have to integrate it into the curriculum. The moment you take it outside of the curriculum you're adding that extra brick in the backpack that you don't want there. Then it's a heavier load. You have to figure out a way to use it with all the bricks you already have in your backpack. Once you've threaded through that you won't notice it because if you are doing a little extra work - especially in the beginning since you have to do research and experiment - once you get past that barrier the enhancements to your regular curriculum are such that you don't mind doing the extra work. It's kind of like getting dressed up. If you take that little bit of extra time you might look a little better and feel a little better so you don't mind taking the extra time. You'll definitely reap the rewards in your classroom from that and as a person too."
Using technology has its rewards, as Frank said, "You have a variety of different learners in your classroom - some who learn with text, others with audio, some with visual, etc. Technology allows you to reach each child and do it in a short time. The old way you had to take an hour or 35 minutes to show the filmstrip or video."
Another benefit Frank sees is that computer technology lets kids produce products. "There are many students who are like me who don't have the writing or artistic skills. With technology, it's OK if you have that, but it's also OK if you don't. " Frank said.
Frank is also writing a regular column, "Teacher to Teacher," for the Michigan Association for Computer-related technology Users in Learning (MACUL) newsletter on teachers and technology (see Internet Resources below).
When asked to describe any difficulties he's had with respect to Internet technology in his classroom, Frank said, "Time, time, time. Those are the three most difficult problems integrating technology into the curriculum."
Frank was asked how he handles such difficulties. "Work, work, work. Just like you, it takes me time do figure out why something is not working." Frank relies on a network of people to support his efforts, along with the software manuals."You start to build a resource of people to draw from" he said.
"I was really concerned that I would hook up to someone and they would just stop communicating. That did happen. I decided then that once I found a partner I needed to make sure they would be committed to doing what we said we would do. I found the best way to do that was to ask for their phone number and give them a call. Now, before I start a project with someone, that is exactly what I do."
"Failure with technology can happen too, though. For example, you get a collaborative partner you think is going to be spectacular. You go back and tell your kids this - and by the way I've done this and it really hurts - I've got this great connection in New Mexico, and they're all excited. And all of a sudden it just dies. They don't ever get back to you. And it hurts. You have this big build-up and then this major letdown. So that can also happen.
The other problem is you have to watch what your letting you're kids do out on the Internet. You really have to have controls on that. I'm not a major advocate of just having kids surf the Internet. I want them to go to the places I've set up and no place else."

---
LETSNet is © Michigan State University College of Education and Ameritech