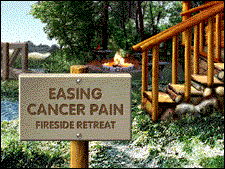 Begin your experience at the lodge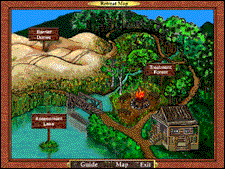 Find your way through the retreat grounds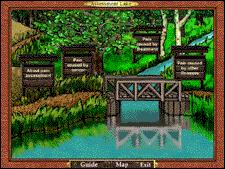 Locate topics of interest on your journey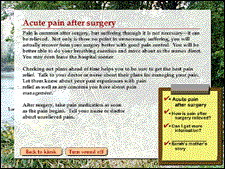 Content pamphlets provide medical information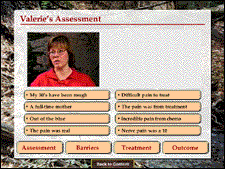 Personal stories provide real life perspectives
Easing Cancer Pain empowers people with cancer who suffer from pain by providing them with a variety of resources to help them understand their pain and seek effective treatment. The software highlights the personal stories of people who are being treated for cancer pain, barriers to pain treatment, and various causes of cancer pain, as well as providing detailed information on approaches to pain relief.
The personal stories of people with cancer cover a wide territory, as men and women of many ages and cultural backgrounds describe their experiences with both chronic and acute pain from cancers of different types and at different stages. With a diverse group of interviewees to select from, software users have the opportunity to hear stories that are relevant to their own lives and situations. The personal stories section also includes the experiences of family members. Spouses and children share their experiences and advice.
The common obstacles that may inhibit people from seeking effective pain management are detailed. Here the software explores, for example, the myths about narcotics that have led to their underuse, including the issues of addiction and tolerance. This section shows that most pain can be relieved, and that seeking treatment for pain is neither a sign of weakness nor of being a "bad" patient. Easing Cancer Pain also includes medical information on the causes of cancer-related pain. And it describes both medical and nonmedical treatments which may be part of their pain management program.
Unlike a brochure or video that recites the same facts to every consumer, the interactive qualities of the CD-ROM allows patients and healthcare providers to tailor it to their needs. They can access any information contained in the software, in any order, and spend as much time going into as great a depth as they desire.
In addition, the CD-ROM is designed with an interface that presents an intimate, calm and relaxing environment &endash; a metaphorical setting that frames the user's interactions with the wealth of information provided. And it is on a private and individual journey through the software that patients will meet others who have walked a similar path. Using video clips, as well as photographs accompanied by audio quotes, the extensive stories about cancer pain told by patients themselves become a personal conversation that the multimedia is uniquely suited to provide.
Easing Cancer Pain was developed by the Cancer Center and the Communication Technology Laboratory at Michigan State University. Karen Ogle, M.D., Professor of Family Practice in the College of Human Medicine, and Director of the Program in Palliative Care Education and Research at the Cancer Center was the primary content expert.
The Easing Cancer Pain CD-ROM runs on Macintosh, Windows 3.1, Windows 95/NT and requires 16 MB of RAM.
$15.00
plus shipping and handling
To order online
Click here
To order by phone call
517.353.9229
NOTE: CD-ROM contains both Mac and Windows versions.
The CD-ROM is also available through The American Cancer Society, Michigan Division, by calling 1.800.723.0360.
To discuss volume purchases, contact:
Karen S. Ogle, MD
B110 Clinical Center
Michigan State University
East Lansing, MI 48824
Phone (517) 353-0772 ext 449
Fax (517) 355-7700
Email Karen.Ogle@ht.msu.edu